CMYS is pleased to announce that the Abeo Quartet and the Risus Quartet are co-winners
in this year's competition. The judges felt they were equally excellent and deserving of first prize.The Abeo Quartet won our Audience Favorite Prize.
Read more about both ensembles below.

Sunday, April 24, 2022, 4PM
First Presbyterian Church
Chamber Music in Yellow Springs' Annual Competition for Emerging Professional Ensembles has been an integral part of our series since its foundation in 1985. Our unique competition offers ensembles the opportunity to choose their own repertoire to perform for in live concert as one of two finalists. Join us for this exciting concert! Ensembles and judges
Competition Finalists
The Abeo Quartet, formed at The Juilliard School in 2018, is comprised of violinists Njioma Grevious and Rebecca Benjamin, violist James Chanha Kang and cellist Brian Gadbow. Abeo was the Silver Medal winner of the 2022 Chesapeake International Chamber Music Competition, and finalist in the 2021 Young Concert Artists International Competition, as well as the Silver Medal winner of the 2019 Fischoff International Chamber Music Competition. Abeo is honored to be the inaugural Graduate String Quartet in Residence at the University of Delaware under the mentorship of the Calidore String Quartet..
The quartet has been featured at Alice Tully Hall, The Kennedy Center's Reach Festival with pianist Joseph Kalichstein, Chamber Music Society of Lincoln Center's masterclass series with the Danish String Quartet, and on WQXR's Midday Masterpieces. Abeo was also featured in Norway's Vertavo Festival, performing seven Haydn string quartets, and was in residence at the Glenstone Museum. Abeo participated in the 2019 Montreal International String Quartet Academy, studying with members of Quatuor Ebene, and the Alban Berg, Takács and Artemis String Quartets. At Juilliard, Abeo studied in the Honors Chamber Music Program with the Juilliard String Quartet.
In 2021, the Abeo Quartet attended the Norfolk Chamber Music Festival, coached by the Brentano, Emerson and Miró quartets. Abeo made their New York Schnieder Series debut in April 2022. The quartet chose the name Abeo / ah – bey – oh / — an expression of joy in a Nigerian dialect — to reflect their love for playing chamber music and sharing it with others.
The Risus Quartet was founded in 2020 by four passionate musicians living in South Korea. 'Risus' in Latin means 'laugh' and the main vision of the quartet is to bring joy and laughter to their audiences. Its members – Haeni Lee, Jieun Yoo (violins), Mary Eunkyung Chang (viola), Bobae Lee (cello) – graduated from Seoul National University with a devotion to chamber music. After graduating from Seoul National University, they moved to study in the United States of America to expand their view as artists and further explore the world of string quartets.
Grand Prize and Gold Medal Prizewinners at the 2021 Fischoff National Chamber Music Competition, the Risus quartet is currently the Young Professional String Quartet in residence at the Butler School of Music at the University of Texas in Austin. Their 2021-22 season includes performances at the Seoul Arts Center Summer Music Festival, Jeju International Music Festival, Gum Nanse Music Center, The House Concert, Seocho-gu Chamber Music Festival, Tongui-dong Classic, the Samick Cultural Foundation with support from the Busan Classical Development Council. They also had a winner's tour for the Fischoff National Chamber Music Competition which included the concert at Dame Myra Hess Series, O'Neil Hall at Notre Dame University and Howard Arts Center. Recently, they had a virtual concert which was broadcasted by The Violin Channel and Music For Food.
The Risus quartet had outreach experience at Midwest Young Artists Conservatory(MYAC), St Joseph High School, Upton Middle School, Penn High School, LaSalle Intermediate Academy, Goshen High School.
The Risus quartet loves to keep their curiosity alive, digesting music of various genres from Baroque to new commissions.

Final Round Judges
Mark Gibson, director of orchestral studies at CCM since 1998, enjoys a career that spans three continents, guest conducting and teaching from Munich to Manila.
Prior to his arrival in Cincinnati, Gibson served as principal conductor of the Alabama Symphony, visiting director of orchestral studies at the Eastman School of Music and music director of the New York City Opera National Company, among other posts. He was artistic director of the Opera Theatre and Music Festival of Lucca in Italy and director of the opera conducting course at CCM Spoleto. Presently artistic director of CCM's unique immersion program, the Summer Opera Conducting Bootcamp, he has just been named head of the Conducting Institute at the Miami Music Festival.
Gibson's conducting credits include the Minnesota Orchestra, St. Paul Chamber Orchestra, Omaha Symphony, Jacksonville Symphony, Rochester Philharmonic, New York City Opera, Dallas Opera, Opera Pacific, New Orleans Opera, Cleveland Opera, Chautauqua Opera and Spoleto U.S.A. International appearances include Central Opera of Beijing; orchestras in Beijing, Chengdu, Xi'an, Tianjin, Shenzhen and Qingdao, China; the Opera de Valencia; Opera de Malaga; and Gran Teatre del Liceu in Spain, the Bochum Symphoniker in Germany, the KBS Symphony Orchestra, COOP and Seoul Symphony Orchestras in Korea, and the Philippine Philharmonic Orchestra in Manila.
He leads master classes and concerts at many conservatories and orchestras in the US and internationally, including the Hochschule für Musik und Theater in Munich, Seoul National University, National Taiwan Normal University, the Central Conservatory of Music in Beijing and the Escola Superior de Musica de Catalunya in Barcelona, and most recently the Charleston Symphony Orchestra. His students have won top prizes in the Malko, Pedrotti, Solti, Mahler, Flick, Jeunesses Musicales, Dorati, OFUNAM, Blue Danube, Li Delun and Maazel conducting competitions.
Notable performances include opera galas at the National Centre for the Performing Arts, Beijing and the American concert premiere of the complete, five-act Paris Opera version (1867) of Verdi's Don Carlos. He is presently at work on the long-anticipated 8th edition of the classic text, "The Modern Conductor," for Pearson.In 2017, Oxford University Press released Mr. Gibson's highly acclaimed book on conducting and musical matters, "The Beat Stops Here."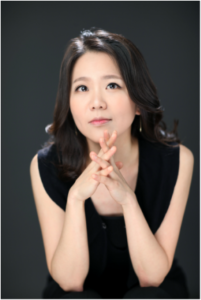 Noted for her "sensitive and imaginative" (New York Concert Review) playing, Korean-born pianist Sookkyung Cho has been captivating worldwide audiences with her personal, thoughtful expressionist style. She has appeared in venues such as Alice Tully Hall at Lincoln Center, Weill Recital Hall at Carnegie Hall, Chicago Cultural Center, Sarasota Opera House, Baltimore Museum of Art, Montreal Conservatory, Beaux concerts de la releve in Quebec, Château de Fontainebleau in France, and Zijingang Theater at Zhejiang University in China, among others, and was recently heard on Chicago's WFMT.
A founding member of the New York-based Almava trio, Ms. Cho has also been featured in major music festivals including Yellow Barn, Norfolk, and Sarasota, and was a Performing Associate at Bowdoin International Music Festival in Maine. As a sought-after pedagogue, She has been invited to adjudicate competitions and conduct masterclasses, most recently at New England Conservatory Preparatory School for its Concerto Competition Finals and Walnut Hill School for the Arts for its Honors Chamber Music Auditions. She has also taught as a piano instructor for the LINKS Signature Arts Program at The Juilliard School in New York and as piano and chamber music faculty at NEC Preparatory. An emerging performer-scholar, she was selected to present a lecture-recital at College Music Society for its biennial International Conference in Korea and has also taught music theory at Peabody Institute of the Johns Hopkins University in Baltimore.
Ms. Cho earned her Bachelor of Music degree from Juilliard, where she was honored with John Erskine Graduation prize, and a Master of Music degree from Peabody as a full graduate assistantship recipient, where she also received Grace Clagett Ranney Prize in Chamber Music. She earned her terminal degree, Doctor of Musical Arts, from Juilliard as a C. V. Starr Doctoral Fellow, where she also taught as a teaching fellow both in Piano Minor and Literature and Materials departments. Her teachers include Boris Slutsky, Julian Martin, Matti Raekallio, and Jonathan Bass. Associate Professor of Piano at Grand Valley State University in Michigan, she has also served on faculty at InterHarmony Music Festival in Italy, ESME String Virtual Camp, and Blue Lake Fine Arts Camp in Michigan during the summer.
Juliet White-Smith is an accomplished violist, an engaging and dynamic teacher, and an expert string pedagogue. With a career spanning nearly three decades, she has a particular passion for chamber music performance and is an advocate of music by Black composers, having most recently been interviewed on the topic by the Boston Globe and WBUR Boston. She recently presented on "Diversity and Social Justice" at Penn State University and "Diversity, Inclusion and Equality in Music" at the Juilliard School, and proudly serves on the Advisory Board of Music by Black Composers, a project of the Rachel Barton Pine Foundation.
White-Smith is an in-demand teacher and clinician, having presented master classes at premier music schools, festivals and conferences worldwide. She is a frequent adjudicator for competitions including Primrose International Viola Competition, and her views on pedagogy, talent and effective practice have been featured in publications such as The Strad, Strings, and American String Teacher. Additionally, she served as President of the American Viola Society from 2008–2011 and has been an Artist-Faculty at the Brevard Music Festival since 2018.
In addition to teaching, she enjoys an active performance career across the United States, Europe, Asia and Africa. White-Smith records with Centaur Records. Her 2009 album Fashionably Late: Juliet White-Smith Debuts! features the premiere recording of Pulitzer Prize winner George Walker's Viola Sonata (1989). Performance clips and teaching excerpts can be found on her YouTube channel.
A native of Baton Rouge, Louisiana, White-Smith joined The Ohio State University School of Music in 2012, having previously held positions at the University of Northern Colorado and Western Michigan University.