2023 Competition Finalists
CMYS is very excited to announce that the winner of this year's Annual Competition for Emerging Artists is Trio Ondata! https://www.trioondata.com. Both Trio Ondata and 2nd place winner Canone String Quartet are exceptional ensembles and we look forward to their exciting musical paths!
The Canone String Quartet was formed at the Jacobs School of Music at Indiana University. Comprising members from the US, Argentina, and the UK, they have individually appeared on stages across North America, Europe, and Asia. This ensemble has worked closely with the Pacifica Quartet, Horszowski Trio, and Atar Arad, former violist of the Cleveland Quartet. The Canone Quartet is an exciting group of rising artists, eager to perform a diverse range of repertoire for audiences across the world. Most recently, they were featured as Emerging Artists in the 25th anniversary of the Mimir Chamber Music Festival in Fort Worth, Texas.
The Canone Quartet has recently been named the Jacobs School of Music's String-Quartet-in-Residence and recipient of the Kuttner Quartet Fellowship for the 2022-2023 season. At our competition finals, they will perform the String Quartet No. 2 in A minor by Felix Mendelssohn; Kaleidoscope Eyes by Don Freund; and Danzas de Panama by William Grant Still.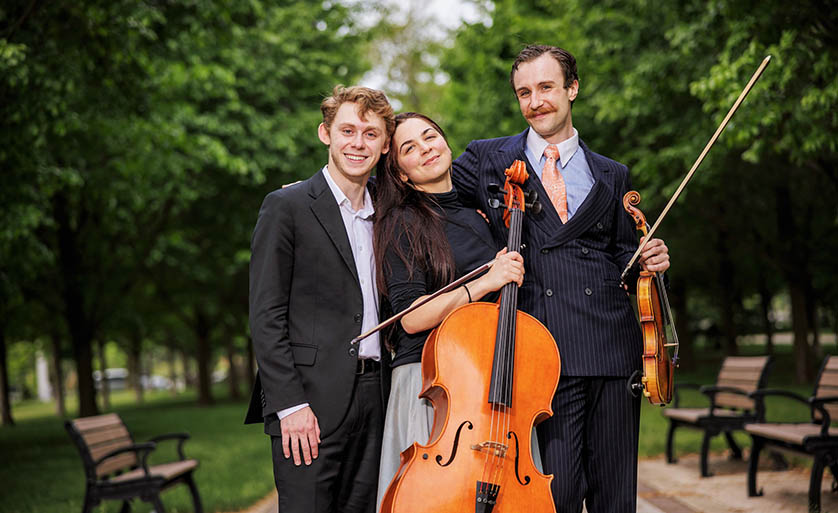 WINNER!
Trio Ondata is a New Haven-based classical music ensemble composed of violinist Michael Ferri, cellist Miriam Liske-Doorandish, and pianist Anthony Ratinov, who began playing together during their graduate studies at the Yale School of Music. With an inquisitive approach defined by advocacy, dialogue, and thoughtful programming, Trio Ondata strives to use artistry to engage with broader social and cultural contexts, facilitating a connection with wide-ranging repertoire both old and new.
Formed in 2021, Trio Ondata's early appearances included the Yale School of Music Lunchtime Chamber Series, the YSM Competition Showcase Concert and performances with the student contemporary collective Versicolor New Music. The Trio is 2nd Prize laureate of the 2022 Fischoff National Chamber Music Competition, and won the Yale School of Music Chamber Music Competition the same year. During the final competition, they will perform Lera Auerbach's Piano Trio No. 2, Triptych – This Mirror Has Three Face; the third movement from Piano Trio in E-flat Major by Joseph Haydn; Robert Schumann's Piano Trio No 3. in G minor, first and second movements; and the third movement of Arno Babajanian's Piano Trio in F-sharp minor.
---
---
Since the first Competition in 1985, we have retained a focus widely recognized to be unique among chamber music competitions. The Competition, as a companion part of a well-established chamber music concert series, intends to foster the development of new chamber music ensembles. Promoting new groups as performing ensembles is an essential part of our goal of sustaining chamber music concert series like ours. Competitors must perform a 30-minute program of their own choosing, an unedited video-recorded performance, and with all the same ensemble members. Recordings made during the last three years are permissible as long as the video recordings were made with the current ensemble members. Finalists often remark that they greatly appreciate being able to perform music they select rather than being judged on comparative performances of standard repertoire. In this way, we believe we are able to hear our Finalists at their best. Seeking to recognize the best new ensembles with a likelihood of having careers as professionals, our Competition has featured ensembles of differing instrumentation in the majority of our 34 competitions. This approach has proven to be successful with over 50% of our Finalist ensembles still performing today. We look forward to receiving your entry materials and to selecting this year's Competition Finalists.
For questions regarding the competition, please contact the competition chair, Linda Menz, lindamenz@gmail.com.
To keep up with the latest information, follow us on our competition Facebook page
First Prize – $4,000
Second Prize – $3,000
People's Choice Award – $500